When you're looking for things to do in Orange County, finding a city with concentrated downtown areas is a good first step. While Laguna Beach boasts an excellent center of commerce and activity around Main Beach, and Santa Ana has the same sort of gathering point around 4th street, there are always other cities to explore. Newport Beach is one of the best to visit, with one of Orange County's most vibrant downtown areas
Whenever you're looking for things to do in Newport Beach, People's is happy to help with the handbook for finding fun things to do all throughout the year.
The Hottest Spots in Newport Beach
There are a few areas with a concentrated section of bars and restaurants—Balboa Island, Corona del Mar, and Balboa Peninsula are some of the hottest stops, but there are some great meeting points scattered around town, as well.
Take a Walk at the Lido Marina Village
Start your night by popping an appetite-enhancing weed gummy and strolling around the Lido Marina Village. The visitor lot across the street on via Lido offers free parking, so you'll be able to stay there for a while. The area is walkable, so take your time deciding where to eat. You can try the exquisite sushi and sashimi at Nobu, healthy salads and bowls at Malibu Farm, or French-inspired food at Zinqué.
Eat and Drink Irish Fare at Fable and Spirit
For heartier fare, the best pub around is definitely Fable & Spirit, which is right off the free parking lot on the same street. The Guinness Brown Bread with clover honey and Kerrygold butter is locally famous, and the creative cocktails and mocktails are bracing and delicious.
Get the Best Fish Tacos in Orange County at Bear Flag
Right next door to Fable & Spirit, Bear Flag offers fresh fish caught daily in everything from Hawaiian-style poke bowls to fish tacos. Bear Flag is great for casual lunchtime dining or tasty to-go dishes, but if you want to relax and enjoy a leisurely dinner, Fable & Spirit is the place to go. With socially-distanced indoor dining as well as outdoor dining with a great view of the historical Lido Theater, it's a safe way to enjoy a traditional restaurant experience.
Mama D's Kitchen: The Best Italian Food in the United States of America?
Just a short walk away is Yelp's highest-ranked Italian restaurant in the United States: Mama D's Kitchen. For those craving comfort food, Mama D's has all the delicious gluten and dairy your heart desires. This place is famous for its customer service, which is even better than the legendary vodka sauce.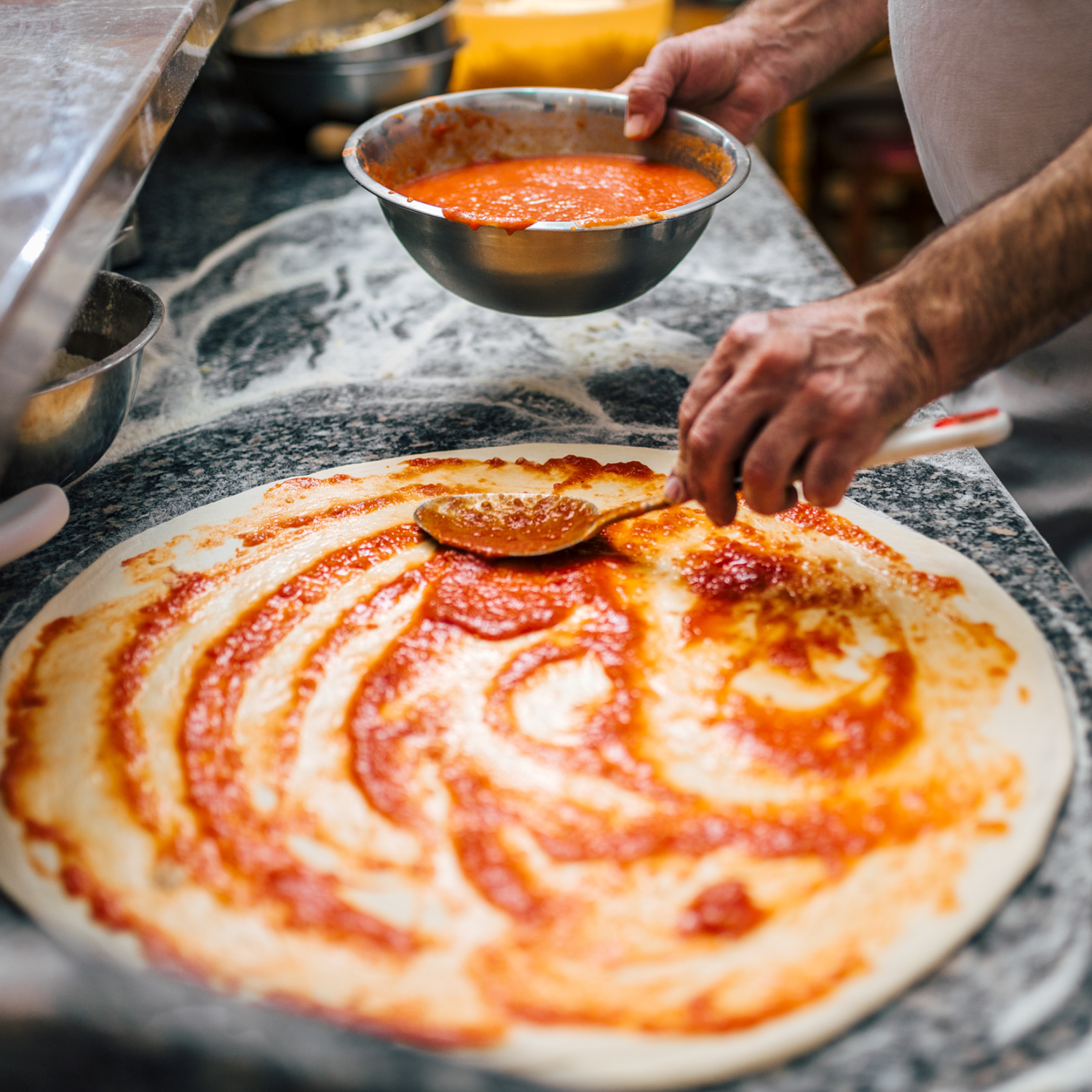 The Best Bars in Newport Beach
Once your cannabis edibles kick in, it's time to explore. Luckily, you're not stuck walking or taking an Uber, because the Balboa Peninsula has its own form of transportation for the mildly-inebriated visitor. Eat another weed gummy or enjoy a pre-roll if you'd like, then hop onto the free Balboa Peninsula trolley. All you need to do is download the app (easy to find via a quick Google search), and there you have it—free rides to anywhere you want to go.
Baja Sharkeez: Fishbowl Cocktails at the Beach
For your first stop, visit Baja Sharkeez. Despite their intimidating appearance, the bouncers are friendly, and happy to offer masks to any customers who forgot theirs at home. Temperature checks are conducted at the door for enhanced safety, and there's an outdoor patio available for seating. They're most famous for their Fish Bowl drinks and Party Buckets, which are cocktails served in (as the name implies) fish bowls and buckets, respectively. If you're already feeling the edibles and the munchies are hitting you hard, try their food instead. Their grilled fish tacos, nachos, and cheesy fries are delicious and filling, but you really can't go wrong with anything on the menu.
Have a Quiet Night out at The Quiet Woman in Corona del Mar
Looking for a more low-key experience? You can opt to skip the Balboa Peninsula party scene and head on over to Corona del Mar. The Quiet Woman is, despite the name, usually fairly busy. Their elegant cocktail menu offers sophisticated takes on classic drinks, and a quick scan reveals interesting flavor elements like fresh cucumber or orgeat syrup. Pair your cocktail with a small plate of delicious seafood bisque, butternut squash ravioli, or artisan cheese.
New in Newport Beach: Shorebird
Looking to support a brand-new restaurant? Shorebird opened in Newport Beach in 2020. Despite the difficult timing, it's been succeeding on the basis of its excellent drink menu. White Peach Sangria is a standout, but so is the Smoked Blueberry Sour. For winter vibes, order the their seasonal cider (available on tap) or the deliciously dynamic Blood Orange Drop.
Where to Enjoy Cannabis While Visiting Newport Beach
While Newport Beach doesn't currently allow any legal cannabis stores to open within city borders, the recent passage of Measure V in Costa Mesa indicates that things could change soon. In the meantime, ordering delivery cannabis from People's is fun, fast, and free for orders over $50. Our delivery team will come right to your doorstep, so you don't have to wait for a Newport Beach dispensary to open to get your favorite cannabis products.
Newport Beach has great seasonal attractions, with the Newport Beach Boat Parade and the Ring of Lights sharing the top spot. One is for boat-owners and one is for homeowners, but both involve decorating to the nines to show off holiday spirit. Every year, Newport Beach residents on the waterfront cover their houses with Christmas lights, blow-up Santa Claus effigies, electronic reindeer, and more, and local sailors decorate their yachts to look like the Polar Express or Santa's workshop. As long as you're not in charge of navigation, consuming a little cannabis beforehand adds to the fun.
Next time it's low tide, check out the astounding weirdness and beauty of the Corona del Mar tide pools. Double the surreal sensation by trying a gourmet cannabis edible before walking over to the to enhance the wondrous sights. If you're lucky, you might be able to see a seahorse or a baby octopus.
During the summer, the beaches also make a great spot to watch the Newport Beach fireworks. The light shows rival Disneyland, and the perfect summer weather means you can sit out on the sand and enjoy an all-day picnic comfortably. Stop by C'est Si Bon for delicious sandwiches on fresh-baked French baguettes or pack your own basket of tasty food. Just don't forget to throw in a few of your favorite cannabis products to enjoy all night long.